How To Add ZkSync To Metamask?
Seamless Guide to Enhance Your Ethereum Experience with zkSync Integration
By reading the article "How To Add ZkSync To Metamask" published in Adaas Investment Magazine, you will be fully familiar with how to add ZkSync Blockchain to Metamask Cryptocurrency Wallet and experience lightning-fast Ethereum transactions and reduced gas fees! This level of familiarity can be enough when you need educational information about this topic.
We're not just unlocking faster transactions; we're unlocking a new era of Ethereum experiences. From reducing fees to accelerating confirmation times, zkSync's integration holds the key to revolutionizing the way we transact in the world of decentralized finance (DeFi).
Stay with us as we delve deeper into the integration process, and equip yourself with the tools to navigate this new paradigm with confidence. Get ready to witness the transformation – zkSync and MetaMask are about to reshape your Ethereum journey!
Step-by-Step Guide: Adding ZkSync to Metamask
---
Before diving into the world of ZkSync, it's essential to have Metamask, your trusted Ethereum wallet, installed and set up on your device. Follow these steps to get started:
Methode 1: The easiest way to import ZkSync to Metamask wallet!
If you encounter any difficulties when manually importing networks to your Metamask wallet, don't worry. We have a fantastic solution for you:
Chainlist! It's a user-friendly and completely free platform designed to simplify the process. With Chainlist, you can effortlessly import the most popular blockchains to your Metamask wallet with just a few clicks. Follow these simple instructions to get started:
1- Begin by opening your web browser and conducting a quick search for Chainlist using Google or your preferred search engine.
2- Once you've arrived at the Chainlist website, locate the "Connect Wallet" button. It's typically situated in the top right corner of the page.
3- If this is your first time connecting your wallet to Chainlist, you may be prompted to sign some smart contracts using your wallet's digital signature. Don't worry, it's a straightforward process. Simply review the details and approve the transactions.
4- Once your wallet is successfully connected, utilize the search function to find "ZkSync" Once it appears in the search results, click on the "Add to Metamask Wallet" button.
5- An alert will appear, requesting your permission to add the ZkSync network to your wallet. Simply click "Approve" to grant Chainlist the necessary access.
6- You may be prompted to switch your current network to ZkSync network. Look for the "Switch Network" button and click on it. Voila! You've successfully added the ZkSync blockchain to your Metamask wallet.
Congratulations on your successful integration of the ZkSync blockchain into your Metamask wallet! From now on, you can enjoy the benefits of faster transactions and lower fees. If you have any questions or encounter any issues, remember that Chainlist has a supportive community and comprehensive documentation to assist you.
Method 2: Adding ZkSync Network Manually!
In Metamask wallet, you can add a custom network manually by importing the desired network's RPC information. Follow the steps below to do this for the ZkSync network:
Step 1: Open your Metamask wallet and in the top left corner click on the Networks list. You will see a button named "Add Network", click on it.
Step 2: A new window will be opened for you where you can see a list of networks you can add to your wallet, in the bottom of the list, click on the "Add a Network Manually" button.
Step 3: In the next step you need to enter ZkSync's RPC and click on the "Save" button. Here we have provided you the valid RPC to save you time:
ZkSync RPC:
Network Name: zkSync Era Mainnet
RPC URL: https://mainnet.era.zksync.io
Explorer: https://explorer.zksync.io/
Chain ID: 324
Symbol: ETH
Step 4: You have imported the ZkSync network successfully, all you need to do is switch to the new network by clicking on the "Switch to zkSync Era Mainnet" button.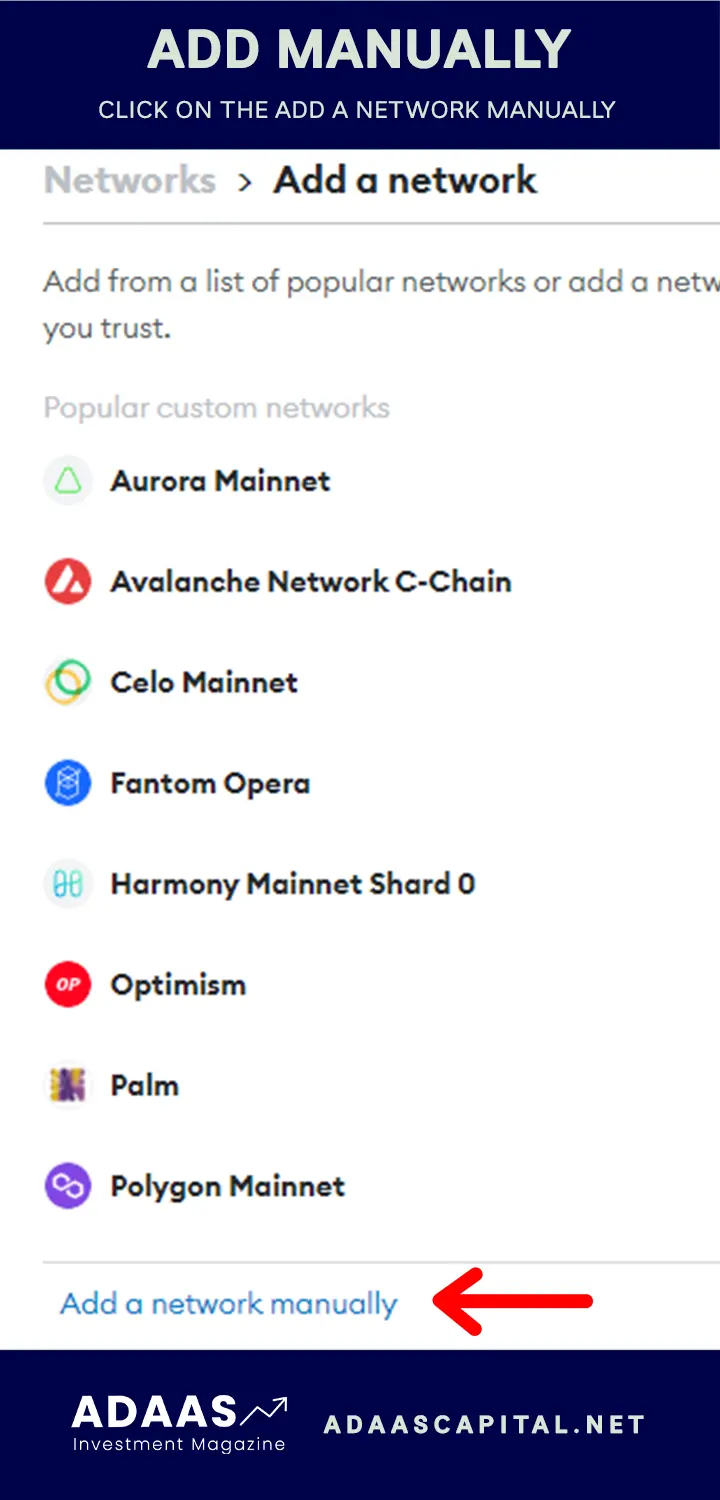 Congratulations on your successful integration of the ZkSync into your Metamask wallet! From now on, you can enjoy the benefits of faster transactions and lower fees.
Testing zkSync Network
---
Now that you've grasped the mechanics of zkSync Network and integrated it with your MetaMask wallet, it's time to embark on an exciting journey of testing. This section is your virtual guide, walking you through the steps of testing the zkSync Network firsthand and experiencing the wonders of faster, cost-effective Ethereum transactions.
Putting zkSync to the Test: Step-by-Step Guide
1- Prepare Your Wallet: Before you dive into testing, ensure you have some Ethereum funds in your MetaMask wallet. This will allow you to initiate transactions and witness the magic of zkSync in action.
2- Initiate a Small Transaction: With your wallet funded, it's time to experience zkSync's efficiency. Initiate a small transaction within the zkSync Network using the following steps:
– Open your MetaMask wallet and access the zkSync Network.
– Choose a recipient address, specify the amount you want to send, and add any additional transaction details.
– Confirm the transaction and watch as zkSync swiftly processes it.
3- Monitor on zkSync Block Explorer: Now comes the fascinating part. Head over to the zkSync Block Explorer – a window into the world of zkSync transactions. Here, you can track the progress of your initiated transaction, witnessing the stages it passes through until it's confirmed.
The Thrill of zkSync in Action: Real-Time Experience
As you follow these steps and watch your transaction unfold on the zkSync Block Explorer, you'll witness the true power of zkSync Network in action. The speed, the efficiency, and the seamless nature of the transaction confirmations will leave you awe-inspired. With zkSync, what once felt like a lengthy process on the Ethereum mainnet becomes a lightning-fast affair.
Through testing the zkSync Network, you're not just engaging in a trial run – you're diving headfirst into the future of Ethereum transactions. This hands-on experience empowers you to appreciate the transformation zkSync brings to the table. As you monitor your transaction on the zkSync Block Explorer, the efficiency of zkSync's Layer 2 scaling solution becomes evident, further cementing its role in revolutionizing Ethereum transactions. So, don't hesitate – seize this opportunity to witness zkSync in action and unlock a world of faster, more economical, and incredibly seamless crypto transactions. Welcome to the future – welcome to zkSync Network!
Understanding zkSync Network
---
In the ever-evolving realm of cryptocurrency, innovation knows no bounds. If you're seeking a game-changing solution that can revolutionize your Ethereum transactions, then look no further than zkSync Network. This section will serve as your compass to navigate through the intricate world of zkSync, unraveling its mechanics and the myriad benefits it brings to the table.
Demystifying zkSync: Unveiling Layer 2 Scaling at Its Finest
At its core, zkSync is a cutting-edge Layer 2 scaling solution that's engineered to turbocharge Ethereum transactions. Let's break down the key aspects:
– Layer 2 Magic: Imagine the Ethereum network as a bustling highway. Layer 1 represents the main road, while Layer 2, where zkSync operates, is like a high-speed lane alongside it. zkSync works as an off-chain solution, sidestepping the congestion of the mainnet while maintaining the security and trust of Ethereum.
– zkRollups at Play: zkSync harnesses zkRollup technology, which employs a cryptographic technique known as Zero-Knowledge Proofs. This wizardry allows multiple transactions to be bundled into a single proof, which is then verified on the Ethereum mainnet. The result? Lightning-fast transaction confirmations without compromising security.
Benefits Beyond Measure: The Power of zkSync Unveiled
Now that you have a grasp of zkSync's underlying architecture, let's delve into the array of benefits it brings to the Ethereum ecosystem:
Gas Fee Reduction: The Ethereum network's Achilles' heel has long been its gas fees. zkSync rides to the rescue by dramatically slashing gas fees, making transactions economically viable even for smaller transfers.
Speed of Light: Say goodbye to the frustration of waiting for confirmations. zkSync's Layer 2 scaling ensures near-instant transaction confirmations, bringing unparalleled speed to the Ethereum experience.
User-Friendly Interaction: The beauty of zkSync lies in its seamless integration with existing Ethereum wallets like MetaMask. This means you can enjoy the benefits without the hassle of switching to unfamiliar platforms.
Eco-Friendly Ethos: With the reduction in gas fees, zkSync is not only wallet-friendly but also environmentally conscious. Lower fees mean less energy consumption, aligning with the growing focus on sustainability.
Conclusion
---
As we reach the culmination of this guide, you're now armed with the knowledge and tools to transform your Ethereum experience through the seamless integration of zkSync into MetaMask. Let's take a moment to reflect on the incredible journey we've embarked upon and the potential it holds for your crypto transactions.
Unlocking the Power of zkSync: A Recap
Faster Transactions: zkSync ushers in an era of near-instant transaction confirmations, revolutionizing the speed at which you conduct Ethereum transfers.
Cost Efficiency: Say goodbye to high gas fees. With zkSync, you're not only saving money but also contributing to a more sustainable Ethereum network.
User-Centric Approach: The integration process with popular wallets like MetaMask is designed with you in mind, ensuring a seamless and intuitive experience.
The Road Ahead: Exploring Layer 2 Solutions
While zkSync undoubtedly opens doors to a faster and more cost-effective Ethereum realm, it's just the tip of the iceberg. As you continue on your crypto journey, consider delving deeper into other Layer 2 solutions. These technologies are poised to reshape the blockchain landscape and offer you even more avenues to optimize your Ethereum transactions.
Elevate Your Ethereum Potential with zkSync Integration
In the grand tapestry of cryptocurrency innovations, zkSync integration stands as a beacon of progress. By embracing this cutting-edge Layer 2 solution and seamlessly integrating it into your MetaMask wallet, you're stepping into a realm of faster, more efficient transactions. As you explore the possibilities of zkSync, don't forget to venture further into the world of Layer 2 solutions, unlocking a treasure trove of opportunities to enhance your Ethereum journey. So, take the leap, optimize your transactions, and embrace the future – where zkSync, MetaMask, and Layer 2 Ethereum solutions converge to redefine the way you experience the world of digital finance. Your journey has just begun – it's time to soar with zkSync
The End Words
---
At Adaas Capital, we hope that by reading this article you will be fully immersed in How To Add zkSync To Metamask! You can help us improve by sharing this post which is published in Adaas Investment Magazine and help optimize it by submitting your comments.
FAQ
Does Metamask support the zkSync network?
Yes, you can add ZkSync as a custom network to your Metamask wallet a get its benefits easily.
What is ZkSync RPC?
ZkSync RPC:
Network Name: zkSync Era Mainnet
RPC URL: https://mainnet.era.zksync.io
Explorer: https://explorer.zksync.io/
Chain ID: 324
Symbol: ETH
What is ZkSync?
ZkSync is a cutting-edge Layer 2 scaling solution that's engineered to turbocharge Ethereum transactions.
What is the main token of the ZkSync network?
ETH is the main token of the ZkSync network.